May 06, 2011
Two CWRU Students Earn National Scholarships
Two undergraduates who are integral researchers in labs on campus have been awarded Barry M. Goldwater Scholarships.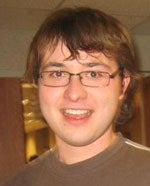 Rising seniors Ilya Kolb, who is earning his bachelor's and master's degrees in biomedical engineering, and Chad Schaber, majoring in biology and chemistry, plan to use the scholarship money to help pay for next year's tuition.
The scholarships, which are named for former U.S. Sen. Barry Goldwater, recognize outstanding potential and commitment to excellence in science, engineering and mathematics.
"I saw the scholarship was for people whose focus is scientific research… that's me," Schaber said.
In the lab of biology professor Mark Willis, Schaber designed and built the experimental apparatus used to study how night-flying moths are able to find targets when there are no visual cues to guide them. He then supervised a local high school student who came to assist and collected data yielding new findings about the animals.
Schaber, who spent the spring semester overseas, plans to get back into research when he returns in the fall.

Willis said Schaber is years ahead of peers: "As a junior, he's been working on the level of a young graduate student already."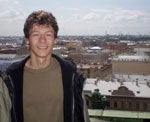 Kolb has worked in the lab of biomedical engineering professor Dustin Tyler since he was a freshman, helping develop nerve implants that enable a stroke victim or paralyzed patient to swallow without inhaling food or water into his lungs.
He also served this year as president of Case's Rising Engineers and Technical Entrepreneurs, which sponsors undergraduate teams of engineering students each summer as they design and build solutions to problems faced by local hospitals and businesses.

Tyler praised Kolb's efforts in the lab and out, adding, "Despite all this activity, he's maintained spectacular academics."
Kolb will continue working with Tyler next year, on an implant designed to enable an amputee to better control prosthetics.
"With the scholarship, I can complete my BS/MS here, then apply for a PhD program," Kolb said.
Posted by: Emily Mayock, May 6, 2011 09:24 AM | News Topics: Awards