May 12, 2011
First-year Student Wins Nock Scholarship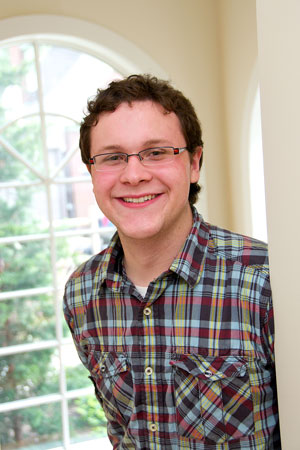 Case Western Reserve University named Zachary Galliger, a first-year biomedical engineering student, as the second recipient of the Douglas W. Nock Endowment Scholarship.
The award provides recognition and financial assistance to outstanding undergraduate students or admitted high school graduates who have advanced the mission of the lesbian, gay, bisexual, transgender (LGBT) community at Case Western Reserve or as a high school student in their community.
Galliger was elected president of Spectrum, the university's undergraduate gay-straight alliance, for 2011-12. He assisted in planning the Candlelight Vigil against LGBT bullying, and assisted in planning the Drag Ball. Additionally, Galliger appeared in The Chronicle of Education about his experience at CWRU as an "out" freshman.
The scholarship selection committee of the Lesbian, Gay, Bisexual, Transgender and Allies Committee, chaired by Donald Feke, vice provost for undergraduate education, was impressed with Galliger's strong leadership, volunteer efforts, enthusiasm and passion for LGBTA issues.
"My life has been made easier through the efforts of others," Galliger wrote in his application. "Now I want to help make the lives of others even better."
Galliger intends to use the scholarship to assist with books and tuition.
Posted by: Emily Mayock, May 12, 2011 09:30 AM | News Topics: