May 12, 2011
Senior Spends Winter Searching for Fossils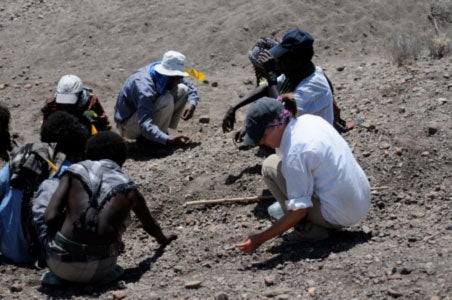 When graduating senior Allison Zimmerman kicked off her final spring semester at Case Western Reserve University, she got off to a much different start than most students.
For starters, she left Cleveland and headed to Africa.
It was not a typical trip abroad, spent taking courses and traveling. Instead, Zimmerman spent two months camping out in Ethiopia, excavating fossils in the fields of the Afar region and preparing the fossils for storage in the National Museum of Ethiopia.
Zimmerman, a physical anthropology major with a minor in sports medicine, was the only undergraduate student to go on the excavation. She earned the trip after completing the Human Evolution (The Fossil Evidence) course, offered by Yohannes Haile-Selassie, adjunct professor of cognitive science and curator and head of physical anthropology at Cleveland Museum of Natural History.
Haile-Selassie traveled with Zimmerman to Ethiopia, where they took part in the field season of the Woranso-Mille Paleontological Research Project. Though many research efforts take place in this region, Zimmerman said, it is one of the only projects that allows for undergraduate participation.
Through her work with the approximately 30-person research team, which included Haile-Selassie, a graduate student from University of Addis Ababa, assistants from Addis from Addis Ababa and workers from the local villages, Zimmerman helped collect more than 650 identifiable fossil specimens such as monkeys, hippos and rhinos.
In the lab, she cleaned and conjoined fragmented fossils, then labeled them for organization. "I learned a lot about the different ways that the fossils can be cleaned and reconstructed if multiple fragments were collected from the field," Zimmerman explained. "I was very excited to get the opportunity to perform one of these reconstructions on a mostly complete skeleton of a small carnivore."
Her experience in Ethiopia is guiding her future: Zimmerman plans to continue work in physical anthropology after graduation, possibly in the new multidisciplinary field she practiced while in Ethiopia.
"Each member of the team who I was lucky enough to meet either in Addis Ababa or in the field taught me something new, from the languages spoken there to techniques related to field methods," Zimmerman said. "I truly enjoyed my time in Ethiopia and the chance it gave me to experience for myself where paleo-anthropological research can lead, not to mention my exposure to a totally new culture and people."
Posted by: Emily Mayock, May 12, 2011 09:30 AM | News Topics: