Bader, Lake Named Jackson Award Winners
This year's winners of the J. Bruce Jackson, MD, Award for Excellence in Undergraduate Mentoring are from very different areas of expertise, but both have one undeniable trait in common: an exceptional ability to mentor undergraduate students.
J. Bruce Jackson (ADL '52) established the award in honor of Dean Carl F. Wittke, who served as an adviser, mentor and friend to Jackson as an undergraduate student. The Jackson Award honors faculty members who have made substantial positive impacts on their students' lives by guiding students in their academic and career paths; fostering long-term personal development; challenging them to reflect, explore and grow as individuals; and supporting and/or facilitating their goals and life choices.
This year's Jackson Award recipients are James Bader and Erin L. Lake. Read all about the winners here.
• • •
Two CWRU Students Earn National Scholarships
Two undergraduates who are integral researchers in labs on campus have been awarded Barry M. Goldwater Scholarships.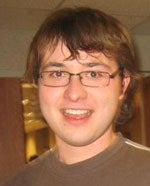 Rising seniors Ilya Kolb, who is earning his bachelor's and master's degrees in biomedical engineering, and Chad Schaber, majoring in biology and chemistry, plan to use the scholarship money to help pay for next year's tuition.
The scholarships, which are named for former U.S. Sen. Barry Goldwater, recognize outstanding potential and commitment to excellence in science, engineering and mathematics.
"I saw the scholarship was for people whose focus is scientific research… that's me," Schaber said. Read more about the students' accomplishments and plans.
Campus News
The Cleveland Marathon takes place on commencement day, with the route passing through University Circle and causing road closures and delays in the area. Visitors attending commencement ceremonies should download a PDF of the travel advisory with shuttle routes and allow for extra travel time. Find more information online.
For Faculty and Staff
There will be an interest meeting for women staff members to learn more about applying for the yearlong Women Staff Leadership Development Initiative (WSLDI). The meeting will be held May 19, noon-1 p.m., in Nord 310B; lunch will be provided. Offered to full-time women staff at Case Western Reserve University, the program aims to nurture and develop talent while helping women staff cultivate their leadership skills. All who would like to know more about the program are encouraged to attend. Several current and former participants will be there. Find general information about the program here; information for this year's program will be available online after the meeting.
• • •
For the third summer in a row, Varsity Tennis Coach Todd Wojtkowski will host a youth tennis camp on campus, with sessions running June 13-17 and June 20-24. The camp is run through the All-American Tennis Camps and is open to boys and girls ages 8-18 of all skill levels. For more information, go online.
For Students
The Entrepreneurship Education Consortium is sponsoring Immersion Week, an intensive one-week academic immersion experience for undergraduates from all disciplines to learn the skills needed to develop new business concepts and apply these skills in a team-based business concept competition. A team of five students from Case Western Reserve University will join teams from nine other colleges and universities for this all-expenses paid event, to be hosted this year at Ashland University, August 7-12. To be considered for the 2011 team, complete the application form online by May 12. For more information, contact James Hurley or Colin Drummond.

Events
Circle Neighbors, a free lecture series sponsored by institutions in University Circle, will be held in the Cleveland Museum of Art Recital Hall May 11 for a 10:30 a.m. program on "Immigration and Why it Matters to University Circle." University Circle Inc. President Chris Ronayne will introduce the co-authors of Immigration, Inc.: Why Immigrant Entrepreneurs Are Driving the New Economy (and How They will Save the American Worker), Richard T. Herman, principal and founder of Richard T. Herman & Associates LLC, and Robert L. Smith, The Plain Dealer demographics reporter. For reservations, call 216.707.2527 or visit WCCMA.net and click the RSVP button. The program will be simulcast in CMA Lecture Hall to accommodate any overflow.
Et al.
The Journal of Historical Research in Music Education published an article by Nita Karpf, lecturer in the Department of Music. In the article, "In an Easy and Familiar Style: Music Education and Improvised Accompaniment Practices in the U.S., 1820-80," Karpf explores ways that musical practices unique to mid-19th century United States not only helped the music education movement gain traction and momentum, but also served as a catalyst for the growth of popular music. Karpf also recently gave papers at a conference at the University of Michigan, sponsored by the Michigan Interdisciplinary Music Society, and in Houston at the conference of the National Association for the Study and Performance of African-American Music.
May 6, 2011
A daily newsletter published by the Office of Marketing & Communications, Case Western Reserve University. Submit items for inclusion to: case-daily@case.edu.
In the News
UPI, May 5, 2011
A recent study by Frances Payne Bolton School of Nursing faculty members Joyce Fitzpatrick and Mary Quinn Griffin, as well as former graduate student Deborah Walton Smith, shows just because a person may be overweight and obese, more often than not, they're already exercising or considering exercising.
Christian Science Monitor, May 2, 2011
SAGES lecturer Brad Ricca weighed in on the popularity of superhero-esque characters in this summer's forthcoming films, starting with Fast Five. "The characters aren't real, but they're just as oversized as Thor or Captain America," he said.
Higher Ed News
The Chronicle of Higher Education, May 1, 2011
Since the last survey in March, only four books remained on the list of best-selling books from college bookstores across the country, including Case Western Reserve University.