What if CWRU Senior is Right? Would the 1994 Cleveland Indians Have Changed History?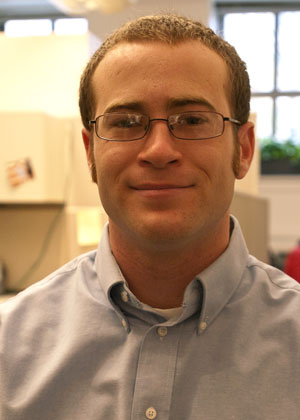 What if the 1994 San Francisco Giants' Matt Williams had gotten the chance to match—or shatter—Yankee legend Roger Maris' single-season home run record? What if San Diego Padres' Tony Gwynn had broken .400? What if the Tribe had made it to the playoffs?
We'll never know, of course, because the 1994 season was cut short by the 232-day baseball strike that started Aug. 12. It left 655 games unplayed and 14 postponed for the 28 teams in Major League Baseball. To top it off, the World Series never happened; it was the first time the series had been cancelled since 1904.
Now, 17 years later, Case Western Reserve University senior Zachary Hass wants to know what might have been. The statistics and economics major from Shawano, Wis., picked up where the season ended by using bits and pieces of knowledge from engineering, economics and statistics to simulate the 1994 season outcomes. Find out how the Indians may have fared.
• • •
ThinkFast Competition Crowns its First Winner
After 15 weeks, the inaugural ThinkFast competition has its winner, an engaged alumnus who keeps up to date with his alma mater—and likes to compete with the Case Western Reserve University community.
Joe Discenza (CIT '88) beat out 530 individuals to become the first ThinkFast winner, earning 760 points by getting the most correct answers (seven out of 14) in the fastest time. Second place went to undergraduate student Jonathon Brand (561 points), and undergraduate Emily Kwong nabbed third place (476.3 points). Read more about the results and Discenza's advice to win it all.
Campus News
The Cleveland Marathon takes place on commencement day, with the route passing through University Circle and causing road closures and delays in the area. Visitors attending commencement ceremonies should download a PDF of the travel advisory with shuttle routes and allow for extra travel time. Find more information online.
For Faculty and Staff
Thanks to a bequest from the members of the family of the late Evan Nord, UCITE is offering Nord Grants to faculty. The grants are available for a wide range of activities; for more information, go online.
For Students
The final GRADLink meeting of the academic year will be held May 10 from noon to 1:15 p.m. in the Spartan Room at Thwing Center. Graduate students from all disciplines are invited to eat pizza and share their thoughts and experiences about being a graduate student at Case Western Reserve University. The meetings are sponsored by University Counseling Services and are facilitated by Pamela Nilsson. Email or call Nilsson at 368.0642 with questions. Meetings will resume in September.
Events
The university community is invited to attend a tips, tricks and training update on SmartCART and also celebrate the program's first birthday. The training sessions will be held May 10 from 10 to 11:30 a.m. and 12:30 p.m. to 2 p.m., with a cake and punch break from 11:30 a.m. to 12:30 p.m. on the first floor of the Wolstein Research Building. RSVP online for a training session.
Et al.
The Academy of Management Meeting in San Antonio, Texas, selected a paper by Weatherhead School of Management doctoral student Jennifer Madden as one of the best accepted papers in the program. Her paper, "Overcoming Collaboration Barriers in Affordable Housing Public-Private Partnerships" will be published in the Best Paper Proceedings of the 2011 Academy of Management Meeting. Nearly 5,700 papers were submitted to the conference. The Academy of Management is the oldest and largest scholarly management association in the world.
• • •
At the Choose Ohio First Summit, a poster by five Case Western Reserve students—Kristy Walsh, Sarah Ancell, Kara Meyer, Kate Schmitmeyer and Dylan Yurgionas—placed fourth out of more than 90 posters presented. More than 300 students from six universities rated their poster on "Conservation of Mechanical Energy."
May 9, 2011
A daily newsletter published by the Office of Marketing & Communications, Case Western Reserve University. Submit items for inclusion to: case-daily@case.edu.
In the News
Fox 8 Cleveland, May 4, 2011
With gas prices above $4, people are constantly looking for ways to save. James T'ien, Leonard Case Jr. Professor of Engineering, explained that airplanes only take off with the fuel they need because it costs more to travel on a full tank. Drivers should follow their lead by traveling as light as possible.
WCPN-FM, May 5, 2011
Hearts damaged by heart attack actually pumped better when fueled with a high-fat diet, according to research led by Margaret Chandler, assistant professor of physiology and biophysics. "Traditionally, if you were to ask the general public what the recommendation was for diet for people with heart disease, they would say it was low-fat. And we're saying, no it shouldn't necessarily be low-fat, it should just be good fats, in combination with complex carbohydrates," Chandler said.
Forbes, May 5, 2011
When discussing whether entrepreneurial talents are inherited or acquired, research by Scott Shane, A. Malachi Mixon III Professor of Entrepreneurial Studies, was cited. The research, which compared identical and fraternal twins, found that entrepreneurship is between 30 and 40 percent inherited.
The Plain Dealer, April 29, 2011
Colon cancer is the leading cause of cancer-related deaths in the U.S., with researchers making advancements in detection, diagnosis and treatment. This includes work being done at Case Western Reserve University School of Medicine, which is researching inheritance, the effect of mutations and advancements in screenings, writes Sanford Markowitz, professor in the Department of Molecular and Microbiology at the medical school.
Mansfield News Journal, May 5, 2011
After an Oak Harbor man killed his wife, children and himself in April, experts discussed how the familicide doesn't fit with a normal profile for murder-suicides related to marital problems. Phillip Resnick, professor of psychology, explained the five things that motivate people to kill their children.
Higher Ed News
The Chronicle of Higher Education, May 6, 2011
University of Texas officials released a vast data file that includes how much professors in the system earn and how many courses and students they teach. Professors are concerned that this information would be used to incorrectly gauge job efficiency, while officials said it cannot yield any analysis or conclusions.