John C. Angus to Receive Hovorka Prize
Case Western Reserve University has announced the winner of this year's Frank and Dorothy Humel Hovorka Prize—John C. Angus.
As one of Case Western Reserve University's most distinguished researchers, Angus has earned an international reputation as a preeminent scholar and engineer for his pioneering research on diamond. These achievements are matched by his dedication in the classroom as a valued teacher and mentor, as well as his many contributions to the university and profession throughout his 47-year career at Case Western Reserve.
Now the Kent Hale Smith Emeritus Professor of Engineering, Angus joined Case Institute of Technology in 1963 as an assistant professor. Read more about Angus' career and accomplishments.
• • •
School of Medicine Signs Research Agreement with Shanghai Zhabei District Health Bureau
Case Western Reserve University School of Medicine has signed an unprecedented 10-year research agreement with the Shanghai Zhabei District Health Bureau to study how an increasingly westernized diet and a less active lifestyle are affecting the health of China's residents.
Under terms of the agreement, researchers from the School of Medicine and Zhabei Health Bureau will track the health information of 48,000 children and adults in the Zhabei district over 10 years. They will study the prevalence of disease across multiple generations and the impact of environmental and genetic factors.
"This is among the largest community-based cohort studies ever and embodies a meaningful collaboration in an important part of the world," said Pamela B. Davis, dean of the School of Medicine and vice president for medical affairs at Case Western Reserve. "What we learn will provide a critical understanding of how genetics, lifestyle, and environmental factors can adversely impact overall health, expanding our knowledge of many diseases, and how they evolve." Learn about the agreement and other plans for the partnership.
Campus News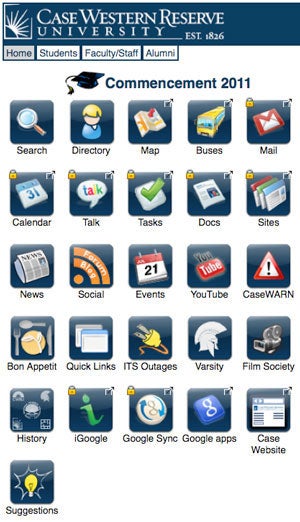 Case Western Reserve University launched a mobile version of the commencement site, designed specifically to showcase commencement-related information on smartphones. This includes a schedule of events, map, directions and more. Check out the mobile version online by clicking the "Commencement 2011" banner on m.case.edu.
For Faculty and Staff
The Employee Wellness Program will sponsor three free cycle classes for employees. The indoor cycling classes will be held May 17 from noon to 12:45 p.m., May 17 from 6 to 7 p.m. and May 18 from 6 to 7 a.m. Click on your desired date and time to register.
• • •
The Office of the Provost and the Flora Stone Mather Center for Women received a Pay It FORWARD (Focus on Reaching Women for Academics Research and Development in Science, Engineering and Mathematics) grant. The grant will support a regional career development workshop for pre-tenure women professors in science, technology, engineering and mathematics from six partner universities. The workshop series, "To Tenure and Beyond: Building an Intentional Career in STEM," will help women develop strategic skills, build confidence and enhance their understanding of academe while helping develop a strategic career plan that incorporates achieving tenure and a successful career. Find more information online.
For Students
The Entrepreneurship Education Consortium is sponsoring Immersion Week, an intensive one-week academic immersion experience for undergraduates from all disciplines to learn the skills needed to develop new business concepts and apply these skills in a team-based business concept competition. A team of five students from Case Western Reserve University will join teams from nine other colleges and universities for this all-expenses paid event, to be hosted this year at Ashland University, August 7-12. To be considered for the 2011 team, complete the application form online by May 12. For more information, contact James Hurley or Colin Drummond.

Events
The Prevention Research Center for Healthy Neighborhoods' Brown Bag Lunch Series will focus on "The P.H.A.B. Initiative: Promoting Health Across Boundaries," with Kurt Stange, professor of family medicine, epidemiology and biostatistics, sociology, and oncology. It will be held May 11, noon-1 p.m., in BioEnterprise Building Suite 401. Beverages and a light lunch will be provided. Find more information online or contact Jacqueline Matloub with questions.
The views and opinions of those invited to speak on campus do not necessarily reflect the views of the university administration or any other segment of the university community.
Et al.
Black Enterprise named Scott Shane's book, The Illusions of Entrepreneurship, to its list of "5 Books Every Entrepreneur Should Read." Shane is the A. Malachi Mixon III Professor of Entrepreneurial Studies at Weatherhead School of Management.
• • •
Martha Woodmansee, professor of English and law, served as an editor on the new book Making and Unmaking Intellectual Property: Creative Production in Legal and Cultural Perspective (The University of Chicago Press). The book presents a range of contemporary perspectives on intellectual property rights and contested sources of authority.
May 10, 2011
A daily newsletter published by the Office of Marketing & Communications, Case Western Reserve University. Submit items for inclusion to: case-daily@case.edu.
In the News
The Plain Dealer, May 6, 2011
Agencies at both the state and federal levels of government need to do more to support small businesses, panelists said at a manufacturing summit at the Federal Reserve Bank of Cleveland. Susan Helper, AT&T Professor of Economics, said job growth could return to Northeast Ohio by identifying new opportunities and using each others' services.
Cincinnati Enquirer, May 8, 2011
Gov. John Kasich has few options to impose new taxes or fees on Ohio's future casinos, but he is attempting anyway and is in a good position to do so. School of Law Professor Jonathan Entin said the amendment allowing casinos into Ohio makes the government able to raise casino taxes only by raising other businesses' taxes as well. "The language seems to say this is the package, and if you want more you have to go after other people," he said.
19 Action News, May 2, 2011
Government guidelines say women don't need to get mammograms until they're 50, but research out of Case Western Reserve University found that women who have mammograms beginning at age 40 have a greater chance of survival if cancer is detected and go through far less toxic treatments.
WEWS-TV, May 2, 2011
Representatives from Case Western Reserve University briefed city council on their public health initiatives. "It's not enough to be the city with the best healthcare in the country if we don't have the best health among our residents in the country. And that's our goal, to help the City of Cleveland," said Scott Frank, director of the Case Western Reserve School of Medicine Master of Public Health program.
Higher Ed News
The Chronicle of Higher Education, May 8, 2011
Many universities around the country have been putting up their own money toward research, but their efforts haven't paid off when it comes to federal rankings, according to a Chronicle analysis.