Case Western Reserve University to Award Approximately 2,000 Degrees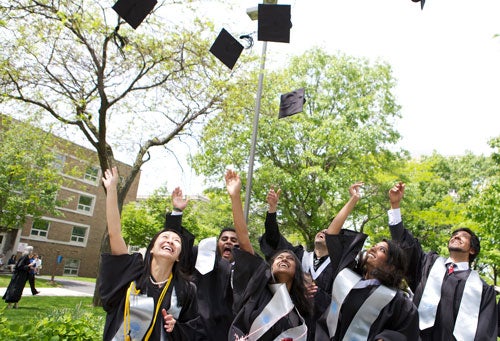 At the 2011 commencement convocation on Sunday, May 15, Case Western Reserve University will award degrees to approximately 2,000 students from the College of Arts and Sciences and schools of dental medicine, engineering, graduate studies, law, management, nursing and social work.
Case Western Reserve undergraduate and graduate students receiving diplomas will fill Veale Convocation Center and hear encouraging words of advice from keynote speaker Scott Cowen, the president of Tulane University and former dean of the Weatherhead School of Management. President Barbara R. Snyder will confer the various degrees earned on the approximately 2,000 graduates, plus honorary degrees.
For more information on commencement, visit case.edu/commencement or visit m.case.edu and select "Commencement 2011" for a mobile version of important commencement details, including schedules, maps and more.
• • •
Religious Studies Professor Curates CMA Exhibit
A Case Western Reserve University religious studies expert is taking on a new role, curating the Cleveland Museum of Art exhibit, "Indian Kalighat Paintings."
Over the past months, Deepak Sarma, associate professor of South Asian religions, worked closely with the CMA staff to organize 40 rarely seen and fragile 19th century souvenir-trade watercolors. The paintings can be seen now until Sept. 18, as part of the museum's series of exhibits, Glimpses of Asia. Additionally, he will give a talk on the paintings May 22 at 2 p.m. in the museum's recital hall.

"The paintings are multi-layered with political, social and religious dimensions and narratives," Sarma said of the paintings often bought by foreign tourists and pilgrims journeying to Hindu temples. Read more.
Campus News
Throughout the weekend of May 21, Google will be making changes to make a number of new applications available to Case Western Reserve University to provide enhanced and expanded features and functionality to your account. No action is required to allow the transition to take place, and your university email address (also known as your account "user name ") will not change. After accounts have transitioned, all users will be required, as a one-time occurrence, to accept the Google Terms of Service Agreement again at their next login to any of the web-based services. An information session to discuss the features and benefits of our new apps will take place online May 19 at 11 a.m. at connect.case.edu/google. For additional information, visit the Google Apps training area on help.case.edu.
• • •
There will be an interruption of services for SmartCART users May 14 from noon to no later than 6 p.m. This outage will allow Information Technology Services (ITS) and the SmartCART vendor to conduct scheduled maintenance and implement an update of the system. Users attempting to reach the SmartCART online ordering system while it is down will see a maintenance announcement asking them to try again later.

For Faculty and Staff
The Ethics Table seeks 12-16 faculty or staff members to explore how to implement ethics or a practical ethical experience into a class or undergraduate program. Meetings will be held monthly, and there also will be meetings before orientation and a two-day conference next May. Deadline to apply is May 27. Find more details online.
• • •
The Employee Wellness Program will sponsor three free cycle classes for employees. The indoor cycling classes will be held May 17 from noon to 12:45 p.m., May 17 from 6 to 7 p.m. and May 18 from 6 to 7 a.m. Click on your desired date and time to register.
For Students
Summer RTA passes are available for purchase ($75) at Access Services starting Monday, May 16. Passes are available to students taking summer classes or students working on campus during the summer. If you are registered for a class, Access Services will verify before selling you a pass. If you are working on campus, your supervisor needs to email access@case.edu to verify you are working on campus on a full-time basis during the summer. The Summer RTA passes are good from May 20 until Aug. 13. Access Services is located in the basement of Crawford Hall. Office hours are Monday-Friday, 9 a.m.-4 p.m.
• • •
The Cleveland Orchestra is offering Case Western Reserve University graduates, friends and family $20 tickets for orchestra-level seats at this weekend's performances of Bruckner 5. Performances at Severance Hall will begin at 8 p.m. tonight and Saturday. Order today using promotion code 8570. Call 216.231.1111 or visit clevelandorchestra.com.

Events
The Council of Technology Officers is sponsoring a new group for web administrators on campus to collaborate and discuss issues with web programming and maintenance on campus. To join the community, add yourself to webadmins on lists.case.edu. The first meeting will be May 25 from noon to 1:30 p.m. in Tomlinson Library. RSVP to jrybka@case.edu if interested in attending.
• • •
The university community is invited to an open forum to review and discuss the first draft of the Diversity Strategic Action Plan. During the forum, representatives from Criticality Management Consulting will discuss how they crafted the plan and request feedback and responses to the draft. The open forum will be held May 19 from 3:30 to 5 p.m. in the Inamori Center for International Ethics in Crawford Hall. Questions? Contact Liz Roccoforte by email or at 368.8877.
Et al.
Spartan athletics have been racking up honors lately. In softball, junior designated player/first baseman Lauren Wolz was named first-team All-University Athletic Association and National Fastpitch Coaches Association All-Central Region First Team, and junior third baseman Kaeleen Boden was selected to the Capital One Academic All-District IV Softball Third Team.
Wolz is the first Spartan to be named to the All-UAA softball team since 2008 and the first in program history to earn the first-team all-region selection. She led the team with a .408 batting average, 10 homeruns and 49 runs batted-in. She also doubled 11 times, scored 25 runs and struck out only five times in 130 official at-bats.
Boden, a biology and cognitive science major with a 3.79 grade point average, batted .350 with two homeruns, 14 runs batted-in and seven doubles while starting all 44 games.
The baseball team's sophomore shortstop Matt Keen was selected to the Capital One Academic All-District IV baseball team, earning second-team honors in his first year of eligibility (student-athletes must be of sophomore status or higher to earn the award).
Keen, an accounting major with a 3.45 GPA, started all 43 games and batted .384 with 34 runs batted-in, 14 doubles, four triples and a nation-leading 64 runs scored. Keen also struck out only seven times in 177 official at-bats and was a perfect 11-of-11 in stolen base attempts.
May 13, 2011
A daily newsletter published by the Office of Marketing & Communications, Case Western Reserve University. Submit items for inclusion to: case-daily@case.edu.
In the News
Cleveland Jewish News, May 12, 2011
A German court sentenced former Seven Hills autoworker John Demjanjuk to five years in prison, finding him guilty on more than 28,000 counts of accessory to murder while he was a Nazi death camp guard in 1943. "Notwithstanding last-minute questions that were raised about the authenticity of one of the key documents, I believe that the prosecution has more than made its case for Demjanjuk's conviction and that the decision will be upheld on appeal," said School of Law professor Michael Scharf.
Crain's Cleveland Business, May 11, 2011
Senior Zach Hass used a statistics formula to predict the end to the 1994 baseball season that ended in strike. Hass said that while he ran out of time to predict how the playoffs would end, he would like to try—although it will involve a much more arduous process.
The Times of India, May 12, 2011
To know how someone will handle stress or critical feedback, look to what psychologists call "hot" and "cold" psychology. People with a high level of working memory capacity—the ability to process information while engaging in something else—could better control negative emotions, explained Heath A. Demaree, associate professor of psychology.
Higher Ed News
The Associated Press, May 12, 2011
Two victims killed in a San Jose State University parking garage have been identified as graduating seniors; the suspected shooter who apparently shot himself afterward was the female victim's husband.