« Off the Shelf- Episode 14: Final Salute with Jim Sheeler | Main | Off the Shelf- Episode 16: Ballet Russes Style with Mary Davis »
October 25, 2010
Off the Shelf- Episode 15: American Literature and the Free Market with Michael Clune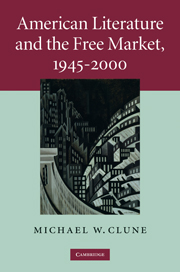 With me for episode 15 of Off the Shelf is Michael Clune. Michael is assistant professor of English here at CWRU and specializes in American literature. This is his first semester on campus.
Michael is teaching a course this semester entitled "Genre Studies: Forms of Life". This course was picked by the blog The Daily Beast as one of the top 20 hottest college courses from across the country. The class and its hotness was featured in The Daily here on campus. Michael and I discuss the class during our conversation.
Some of Michael's other writings can be found on the English Department's website.
The podcast can be heard by clicking on the play arrow in the blue box below.
In addition, the podcast can be downloaded as an mp3 file or iTunes-friendly m4a version. To download either file, right-click (control-click on the Mac) the link below the player and select "save file as..." When the file is downloaded, you can listen to it with the audio playing software or device of your choice.
Download iTunes (m4a) version


Download mp3 version

The Cambridge University Press website has a portion of Michael's book available as a pdf download to preview.

Additionally, the book's page on Amazon.com has the "Look Inside" feature which allows you to have a look at some of Michael's book.
Posted by William Claspy on October 25, 2010 10:45 AM
Trackback Pings
TrackBack URL for this entry:
http://blog.case.edu/orgs/ksl/offtheshelf/mt-tb.cgi/23599
Comments
Post a comment